The 3rd Selected Works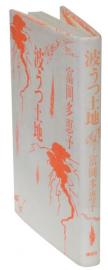 TITLE
Undulating Ground
(Namiutsu tochi)
AUTHOR
Translator
ENGLISH / Louise Heal Kawai

GERMAN /
Jutta Vogt

Originally Published by:
Kodansha
KEY POINTS
Award-winning author.
Challenges traditional gender roles in fiction.
SYNOPSIS
It is the early eighties and the rise of the bubble economy in Japan. The housing industry is booming, and previously unpopulated mountainous areas of the Japanese countryside are being leveled to accommodate new waves of people. Similarly, a new wave of feminism, particularly a change in attitudes to marriage and child-rearing is growing among the women of Japan. Both the physical and social landscapes are in flux.
In the midst of this we meet Kyoko, in her early forties, married, and childless by choice. Smart, witty, and with no compunction about getting what she wants, she rejects entirely the traditional role of women, and actively seeks lovers outside her marriage. When she begins a relationship with one man who is as traditional and conformist as they come, the result is at times uncomfortable, at others comical, but ultimately fatal.
Beautifully written by Taeko Tomioka, a renowned poet, the novel is at times comic in tone, but always touching in its portrayal of a people fighting to escape old ties, yet at the same swept away by the ferocious waves of change.