The 3rd Selected Works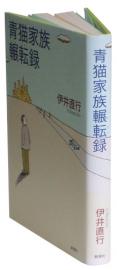 TITLE
Record of a Peripatetic Blue Cat Family
(Aoneko kazoku tentenroku)
AUTHOR
Translator
ENGLISH /
Wayne P. Lammers

GERMAN / Till Weingaertner

Originally Published by:
Shinchosha(2006)
KEY POINTS
A masterpiece depicting the depth of the human heart in an engaging style laced with humor.
Award-winning author and translator.
Provides thoughtful insight to family and working life in Japan.
SYNOPSIS
In this work the author weaves a polyphonic story filled with multiple dramas, building to a momentous development.
The narrator is a fifty-one-year-old man named Yuki Yajima. He and his wife, Asako, are the parents of two daughters: Ryo, seventeen, and Yuka, an infant of two months.
The story begins with Yuki asking why he should be the father of an infant at his age, and continues to unfold in words spoken to his uncle, who died thirty years before at only thirty-nine. Yuki had looked up to this uncle who taught him about Kenzaburo Oe, Norman Mailer, and the Marquis de Sade.
One day Yuki learns from a female acquaintance that her ex-husband, Ogita, is dying of cancer. He is so delighted by the news. Back when they worked for the same trading company, he was set up by Ogita and forced to resign. After being virtually fired from his former job, Yuki set up a company dealing in brand marketing over the Internet, achieving a small but solid success.
Ryo became emotionally unstable and started going out with Yuta Iwamoto and became pregnant. Faced with this predicament, her parents are unsure what to do. A proposal to buy his now thriving company is on the table, and Yuki must decide what to do about that as well.
This work takes as its main character a man of integrity, of the sort that exist in large numbers in the world yet seldom appear in fiction, meticulously rendering his life and opinions. This is a novel of integrity, one that is indeed everything a novel should be.