The 3rd Selected Works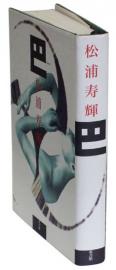 TITLE
AUTHOR
Translator
Originally Published by:
Shin Shokan(2001)
KEY POINTS
Highly accomplished, award-winning author.
This work lends itself well to film adaptation.
Tough, hard-hitting novel.
Metaphysical novel of detection.
SYNOPSIS
This drama of sensuality and blood set in Tokyo's plebian shitamachi district is diffused with the scent of Hong Kong film noir. The protagonist is a man named Otsuki, thirty-four years old. A University of Tokyo dropout, he supported himself by doing odd jobs for gangsters becoming a pimp and drug addict.
One day, he goes for a walk in his neighborhood in Tokyo's shitamachi, meeting up with a man named Sugimoto, who invites him to go see a movie. On this summer evening, just at the spooky time of the gloaming, the nightmare begins.
Otsuki is led off to the home of a master calligrapher named Koyama and shown a movie that Koyama is now producing. It is a bizarre film with pornographic images of a pretty teenage girl engaging in rough sex, alternating with close-ups of insects. Otsuki is then introduced to Koyama's attractive granddaughter Tomoe, the star of the film, and asked to film the remainder of the movie.
The filming comes to an end but he is still driven by desire for Tomoe, still pursuing the mystery. Again and again Koyama's underlings beat him up, but even with near-fatal wounds, he continues to go after Koyama. In fact, Koyama is no calligrapher at all. The illustrious calligrapher is dead, and this is his good-for-nothing younger brother. Tomoe, too, is not Koyama's granddaughter.
Robbed of all he has, appalled at each successive revelation, Otsuki continues going after Koyama to get revenge. But the truth vanishes into a network of canals all around the city.
The
"tomoe"
in the title means "triangle". Strange events occur repeatedly in a triangular area on an actual map of the shitamachi district of Tokyo.