The 4th Selected Works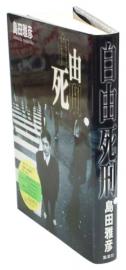 TITLE
Death Penalty
(Jiyu shikei)
AUTHOR
Translator
ENGLISH /
Meredith McKinney

Originally Published by:
Shueisha (1999)
KEY POINTS
Written by one of Japan's most prominent and prolific contemporary writers.
A long story that describes the last 7 days of a man who demands his right to kill himself, this novel describes his last lively and comically lived seven days.
SYNOPSIS
Yoshio Kita, an ordinary company worker, has been feeling hopeless about his future since he was 13 years old. He checks out his bank account to confirm he has about one million yen and decides to kill himself one week later on Friday. It is to carry out the 'capital punishment at his free will' . How to spend his time until the day the 'capital punishment' is carried out? First, he arranges to meet a former porn actress and has a rich banquet with her. Then he makes a contract for his organs, meets his ex-girlfriend who broke up with him 6 years ago, meets an idol, Shinobu Yoimachi, and falls in love with her, and writes and enacts a drama of his own abduction. But on one hand he loses his desire to exact revenge on his distressed ex-girlfriend, and on the other, a killer bothers him. Will Kita be able to kill himself as he plans?
This long novel describes a whole week of a man who demands his right to commit suicide and tries to carry it out. Given the fact that more than 30,000 people commit suicide annually in Japan, the author tried to express the subcurrent of society by asking us, "How do you spend a week if that's all you have now?" and telling us, "We can kill ourselves at our free will, but that freedom is harsh".