The 4th Selected Works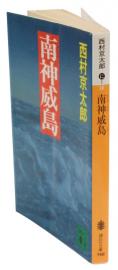 TITLE
South Kamui Isle and Other Stories
(Minami Kamuito)
AUTHOR
Translator
GERMAN /
Wolfgang Höhn
&
Mariko Sakai

Originally Published by:
Kodansha(1992)
KEY POINTS
Written by an extremely popular mystery novelist whose works have totaled sales of over 200 million copies.
"A collection of short stories which is so rare and hard to buy" written by one of the leading mystery writers in Japan.
What is the truth of a tragedy on a southernmost island?
SYNOPSIS
A far-south island, Minami-Kamui Island. He would be the only doctor there. He, a young doctor brought up in the big city Tokyo, witnesses and shudders at the hideous sight of women savagely hunting and killing seabirds with their bare hands. He is feeling ill-at-ease and disturbed by the promiscuity of women, the irritating monotonous sound of drums at the festival, and unfamiliar customs. In the meantime, the plague begins to spread. The truth of a horror story that happened on an island rich with nature. This collection of short stories, privately printed in 1970, contains 5 short stories including the name piece that depicts the nightmare on an island;
Keiji
(A Detective), which depicts the darkness of an actress's mind who insists that her 6-year-old child commits "a suicide."The author, the creator of Detective Totsugawa, is one of the leading mystery writers in Japan with more than 400 published books and a total of more than 200 million copies sold. His writing is referred to as "the literature work that transcends genres" because of its high quality. After he made a debut by winning the Edogawa Rampo Prize in 1965, he continued studying in a literary group and published these 5 stories in a literature-related journal in the course of his study. They were commercially published in 1992 and became a hot topic as a collection of stories which had never been published before. "A mystery should be a literary work, too. True suspense would never be generated by skimming the real cases", he wrote in the postscript of the issue published in 1970.