The 4th Selected Works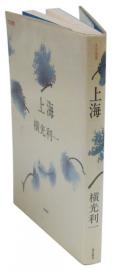 TITLE
AUTHOR
Translator
Originally Published by:
(1932)
KEY POINTS
A pioneering city novel that represents the background of the New Sensationalist School.
Conveys the atmosphere of an international colonial city Shanghai on the eve of the War.
Depicts the distress and wanderings of a Japanese against the racial anti-Japanese movement in 1925.
SYNOPSIS
On the eve of the Pacific War in Shanghai --- the biggest international developed city in the Far East and called "Magical City" or "Paris in the East"--- the powerful bourgeois are rivaling the Chinese Communist Party, and the labor movement becomes increasingly active. In 1925, a Japanese businessman comes to Shanghai, exhausted by a love affair with a married woman, but is fired because of the conflict with his boss. In the days of being comforted by women at bathhouses and dancers at dance halls, he meets and falls in love with a Chinese labor movement activist. On May 30, the English Police fires at demonstrators of the anti-Japanese racial movement on the street, which brings on mayhem called the"5.30 Incident," and his beloved activist disappears. He wanders around the town, looking for her, distressed, and thinking of killing himself…
The author was very active as one of the leading novelists of New Sensationalist School with Nobel laureate in literature Yasunari Kawabata.
This pioneering city novel is his first full-length novel based on his actual one-month stay in Shanghai in 1928. In this novel, the characters (for example, the Japanese businessman who gets stuck in life and has hard time in love) are described visually and mentally in a novel style to convey the atmosphere of an international city on the eve of the War. Many literary persons such as Ryunosuke Akutagawa and Lu Xun visited Shanghai and watched people at the turning point of history from the end of Taisho Era (1912-1926) through the beginning of Showa Era (1926-1989). The author was among them and depicts the movement of the times and the activities of people in his original style.