The 5th Selected Works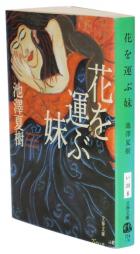 TITLE
A Burden of Flowers
(Hana wo Hakobu Imoto)
AUTHOR
Translator
GERMAN / Sabine Mangold
Originally Published by:
Bungei Shunju (2000)(hc)
(2003)(pb)
KEY POINTS
A masterpiece novel which won the 2000 Mainichi Prize, Daily Publishing Culture Award.
Suspense of whether the brother facing the death penalty for possession of illegal drugs can escape his desperate situation.
SYNOPSIS
Tetsuro Nishijima, who showed his talent for painting from early childhood and left his home right after he graduated from high school, has become a popular illustrator. In Thailand, Tetsuro meets a German woman, Ingeborg, who seduces him and introduces him to drugs: He then gets arrested and imprisoned in Bali for heroin possession. He faces the death penalty on charges of trafficking and possession of a large amount of heroin, which was a crime he did not commit. Tetsuro's sister, Kaoru, who is five years younger than Tetsuro, comes back to Japan from Paris and flies to Bali to bail out her brother. Perplexed by the heat of Asia that she has never experienced in Europe, Kaoru struggles hard to rescue her brother by negotiating with the consulate and lawyers. The story consists of those chapters that are about the struggle of Kaoru, and the other chapters about Tetsuro's reflection on his earlier days when he left his family in conflict with his father, and on his journeys in Asia after that. These two different settings are described alternately in the novel. Tetsuro had already been on the verge of desperation even before he was arrested because of deep remorse. He met a boy, Tain, in Vietnam, and the image of Tain's mother, Anne, was in his heart when, using heroin by a river where he saw a drowning child he let the child die in front of him because he was under the influence of the drug. Both the brother and the sister have been far away from Japan, Tetsuro in Asia and Kaoru in Europe. Meeting again in Bali the Nishijimas find that they relate to each other deeply while going through thrilling turn of events in their struggle to avoid the death penalty, and both will be awakened to start a new chapter in their life. This epic story sheds light on the clash between Europe and Asia, life and death, and desperation and salvation. This is a cosmopolitan novel that depicts the homecoming and reclamation of a man who once was on the verge of catastrophe. Hana wo Hakobu Imoto (A Burden of Flowers) received the Daily Publishing Culture Award, in 2000.