The 5th Selected Works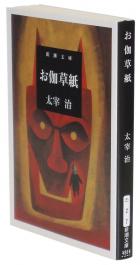 TITLE
Japanese Short Stories
(Otogi Zoshi)
AUTHOR
Translator
GERMAN /
Verena Werner

Originally Published by:
Chikuma Shobo(1945)
Shinchosha(1972)(pb)
KEY POINTS
A literary rendering of Japanese folk tales from one of Japan's foremost fiction writers of the 20th Century.
A master work of Osamu Dazai's middle period, written when the war was nearing its end.
SYNOPSIS
During the time of war in Japan, there were many writers who went silent or sold out their integrity as a writer to curry favor with the authorities, but Osamu Dazai was different. Sinking himself deep into the world of art, he continued to publish new works, which were nothing but manifestation of literature itself, and repeatedly broke new ground. The author wrote stories for this book in March1945 amidst many difficulties, including daily air raids when the war was nearing its end. This excellent collection includes folk stories that all Japanese people know, such as "
Kobutori
(Taking the Tumor Away)," "
Urashima-san
(Mr. Urashima)," "
Kachikachi Yama
(Crackling Mountain)" and "
Shitakiri Suzume
(the Tongue-Cut Sparrow)." In telling all these stories, Dazai never forgets to make them sound humorous and gives the reader opportunities to gain a glimpse into the deep abyss of human nature.
"
Kobutori
(Taking the Tumor Away)" is about two old men. Although both of them had a tumor on his face, the growth was not at all a problem for one of them, but a serious problem for the other who spent his days moping and feeling miserable about his tumor. "This is just a tragicomedy of so-called different characters. This is an issue that never leaves the deepest part of human life," wrote Dazai. "
Urashima-san
(Mr. Urashima)" lost his sense of time while having a good time with Otohime (Princess Oto). He found himself 300 years old when he returned, and could not find his birthplace any more. Dazai concludes that it is merely a preconceived notion of vulgarity to feel sorry for him just because he became 300 years old. He writes "The months and years save people. Forgetfulness saves people." Having fond memories of Otohime (Princess Oto) and Ryûgûjô (the Dragon King's Palace), which were no longer reachable for him, Urashima lived a happy life for a decade after that… This is a big leap, an adaptation, made by Osamu Dazai from a folk story to a radical work of literature.