|
| | | | | | | |
The 2nd Selected Works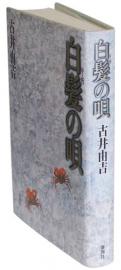 TITLE
White–Haired Melody
(Hakuhatsu no uta)
AUTHOR
Translator
ENGLISH /
Meredith McKinney

FRENCH /
Véronique Perrin

Originally Published by:
Shinchosha (1996)
KEY POINTS
One of Japan's most influential authors of contemporary literature.
Winner of the Mainichi Art Award.
A quiet reflection of the coming to terms of life and death.
SYNOPSIS
This novel is the record of the daily experiences of a man approaching old age. It delves into the essential but hidden nature of his daily life, employing prose that is relentless in its re-creation of detail. Each scene is recorded in such minuteness that the novel sometimes leaves the impression that it has gone beyond the bounds of reality. "I", the protagonist, cannot sleep, so he goes to the hospital where he is receiving treatment. There he meets a young man with a broken leg. Without being asked, the young man begins to relate episodes about deaths that have occurred in his family. In a nearby park, he then meets a man with white hair like his own. It turns out that this man is Fujisato, a high school classmate from over forty years ago. He, Fujisato and another friend get together frequently after that, and as he interacts with
these friends, he begins to recall incidents connected with life and death in his own past: the suicide of a classmate in high school; the frenzy of trying to escape the flames during the fire bombings; his parents' deaths; the death of a friend's girlfriend; the almost daily reports of the deaths of people he has known; and so on. It is virtually a dialogue with the dead, belonging neither to this real world nor to any dream world. Then Fujisato relates to "I" how he had had one particularly difficult period, just before reaching retirement, when he went mad. "I" wonders if it is possible that people go mad as they approach old age. Are his dialogues with the dead a sign of madness? On the other hand, he hears that his young friend with the broken leg will soon be blessed with a baby. Sanity and insanity, life and death, stretching back into the past and forward into the future, appear in the strangely cheerful lives of these aging men.