The 3rd Selected Works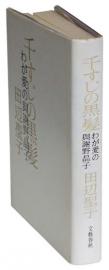 TITLE
A Thousand Strands of Black Hair
(Chisuji no kurokami)
AUTHOR
Translator
ENGLISH /
Meredith McKinney

Originally Published by:
Bungei Shunju (1975)
KEY POINTS
Award-winning author.
Authoritative biography by author who is passionate about her subject.
SYNOPSIS
This book tells the story of the turbulent lives of Tekkan Yosano (1873–1935) and Akiko Yosano (1878–1942), two poets who sparked a revolution in the world of Japanese
tanka
("short-verse" classical poetry) and the passion of the various young poets around them. It is a literary biography of which the author herself has written "This is in a sense a love letter from me to Hiroshi [Tekkan's real name] and Akiko Yosano. An ode to these two brilliant poets".
Akiko was born in the city of Sakai, Osaka Prefecture, the second daughter of a confectionery shop owner. As a girl she read classics in her father's library, including
Genji monogatari
(The Tale of Genji) and
Okagami
(The Great Mirror), as well as
Kokinshu
(920, Collection of Ancient and Modern Poems) and
Shinkokinshu
(1204, New Collection of Ancient and Modern Poems), steeping herself in the pleasures of the world of literature and romance.
The young Tekkan was declaring that "the poet is a child of love, a child of agony" and pouring all his passion into love and poetry. In 1899 Tekkan set up his own poetry group, Shinshinsha (New Poetry Society), with its own journal,
Myojo
. The second issue contained works by Akiko and Tomiko Yamakawa. Tekkan summoned the two women to the Kyoto inn where he was staying, and the three of them wrote an oath in blood swearing to live for poetry. Akiko and Tomiko were comrades and rivals in poetry, and rivals in love as well, each seeking to gain Tekkan's affection. All her life, Akiko suffered pangs of jealousy, but she also loved Tekkan for being in the vanguard of a new kind of poetry, and worked alongside him.