The 5th Selected Works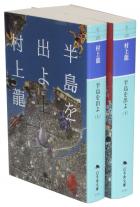 TITLE
Leave the Peninsula
(Hanto wo Deyo)
AUTHOR
Translator
Originally Published by:
Gentosha(2005)(hc)
(2007)(pb)
KEY POINTS
A near future novel about "the invasion of Fukuoka" conducted by the North Korean rebel forces.
Who will save Fukuoka which has been invaded by the North Korean commandos?
Having been inspired by notes written by a man trapped in North Korea, the author interviewed North Korean escapees before he published this monumental near future novel in 2005.
SYNOPSIS
In 2011, the operation order, "Leave the Peninsula," was issued, and nine members of a North Korean armed commando led by Han Seung-Jin invaded Japan in a small vessel. The nine of them occupied the Fukuoka Yahoo Dome where the opening game of professional baseball was in play. Two hours later, a further 484 North Korean soldiers descended from an airplane and the increased and intensified commandos gained control of the center of the city. They identified themselves as "the Koryo Expeditionary Force," and announced that they would not deliver an attack on citizens, the Self Defense Forces of Japan, nor the Unite States Forces in Japan, but they declared the independence of Fukuoka under the rule of the Expeditionary Force. The government measures were fruitless, and their blunders caused casualties among civilians. Just as people began to despair about the situation, there was some movement in a corner of the city of Fukuoka where there were a number of storehouses. A poet named Ishihara was living in Storehouse-C, and a group of youths had gathered around the poet because they liked him. They were all ferocious ex-convicts upon whom parents, relatives and even welfare institutions had turned their back. The boys were intensifying their destructive desires even though they fully understood the strength of the Expeditionary Force. They obtained arms and ammunition from a Yemeni armed group with the help of an ex-bank-employee. Making the Koryo Expeditionary Force their target of destruction, they succeeded in sneaking into the hotel where the Expeditionary Force had established their headquarters. Could this group of outcasts pull off a miracle and become the saviors of this isolated corner of Japan?