The 3rd Selected Works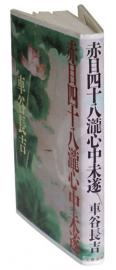 TITLE
The Attempted Double Suicide at Akame Forty-Eight Waterfalls
(Akame shijuyataki shinju misui)
AUTHOR
Translator
ENGLISH / Kenneth J. Bryson

GERMAN /
Katja Busson

Originally Published by:
Bungei Shunju (1998)
KEY POINTS
Winner of the Naoki Prize.
Prize-winning author and translator.
Presents a wide and vivid array of 'underworld' characters.
Semi- autobiographical.
SYNOPSIS
The narrator is a vagabond who has turned his back on the world. At the age of thirty-three, he quit his company job, cut off communication with his friends, and began to drift from town to town until he arrived at the vulgar town of Amagasaki not knowing where his next meal would come from.
"Seiko-nesan", a middle-aged woman who runs a little place serving grilled chicken on skewers, gives him a job and a place to live. From that day on, he lives in a second-floor room in a wooden apartment, working from dawn to dusk trimming pork and chicken meat, getting covered in offal as he prepares the meat for the skewers.
In and around this apartment building are a number of fascinating characters. Across the way is a sharp-eyed tattoo artist, Horimayu. On the first floor Horimayu's lover, Aya-chan, and a little boy dwell. One day, Aya-chan abruptly comes to his room and the two become physically intimate. Aya-chan, whose entire back Horimayu has tattooed with an image of the kalavinka (an imaginary bird of Paradise portrayed in mandala with the head of a human and the body of a bird), is a classic femme fatale.
Because her gangster brother incurred a heavy debt, she must either raise ten million yen or sell herself. "Run away with me", she pleads, "away from this world". Fleeing the gangsters and Horimayu, the two of them come to a famous scenic spot with forty-eight waterfalls of varying sizes. They intend to commit double suicide there, but at the last minute hold back and end up parting ways.