The 3rd Selected Works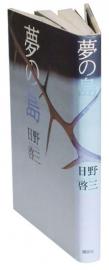 TITLE
Isle of Dreams
(Yume no shima)
AUTHOR
Translator
ENGLISH /
Charles De Wolf

FRENCH /
Jean-Jacques Tschudin

Originally Published by:
Kodansha (1985)
KEY POINTS
Award-winning author.
A masterpiece of the urban novel.
SYNOPSIS
The title of this book is an actual place name in the Tokyo Bay area. Though the name may be beautiful, the reality is reclaimed land covered with garbage expelled by the city. "Stockings with holes, a black notebook, a bunch of spaghetti noodles, a child's red gym shoe . . . Each broken and abandoned piece of trash had an intense presence, gave off the rich smell of daily life".
Shozo Sakai, the main character who has passed his fiftieth birthday, works for a construction company and is proud to be part of a company that has helped bring about the transformation of Tokyo with clusters of high-rises and intricate skeins of expressways and subways.
Since the death of his wife three years before, Sakai has gravitated toward the reclamation site. He finds beauty in the immense piles of garbage. One day he encounters a young woman dressed all in black who tears around the site at reckless speeds on a huge motorcycle. The second time they meet, the motorcycle causes an accident, and Sakai learns the woman's name (Yoko Hayashi) and address. When he calls on her, he is greeted by a decorator "[Yoko is] a bad woman. You mustn't see her". Although these words weigh on his mind, Sakai allows the mysterious Yoko to lead him to Odaiba, a manmade island of reclaimed land in Tokyo Bay.
The abandoned island is covered in forest. The trees are strung with abandoned fishing lines where countless trapped herons swing in midair, dead. Intending to bury the birds, Sakai trips on a vine and ends up trapped, swinging upside-down like the herons, abruptly dead. The author depicts him dying with the image of Tokyo's inverted skyline seared into his eyes.