The 4th Selected Works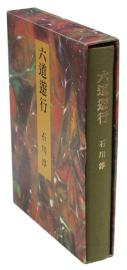 TITLE
Travels on Six Paths
(Rokudo yugyo)
AUTHOR
Translator
FRENCH /
Jean-Jacques Tschudin

Originally Published by:
Shueisha (1983)
KEY POINTS
Adventure story of a thief who travels 1200 years in time between the Nara period (710-794) and the present day.
The portrayal of the hapless Odate as he crosses back and forth between the past and present.
Full length magical realism novel sharply parodying modern society which criticises the power-hungry people and materialism, while promoting true love and anti conventionalism.
SYNOPSIS
In the ancient Nara period (710-794), bandit leader Odate has crept into the home of the powerful Nakamaro Fujiwara and stolen his fabulous treasure and legendary sword. On his way to Mt. Katsuragi to try and gain mystic Buddhist power, Odate encounters a group of beautiful women, and under the guidance of the spirit of a giant cedar called White Deer, he is able to travel 1200 years in time from the Nara period to the present day. When he passes through a tunnel in a giant cedar in the forest of Kasuga, he sees a young woman lying under a bed under a bright electric light. The woman is a stripper called Shingyoku, and from then on Odate goes back and forth between the past and present worlds: in the Nara period crushing the ghosts of the power-hungry people around his secret love, Princess Mikado, and using his spirit powers on the materialistic people encircling the child born to him; and Shingyoku in the present time. No matter which time he is in, Odate remains optimistic, a man living for the "now". As he says, "There is a future only because there is a present." What keeps him going back and forth in time is his extraordinary power. Odate's true love is given to Princess Mikado, telling her as he compares the old world with our present materialistic society, "The world beyond (the present day) seems full of wealth, overflowing with things. But even the people are things. They may be alive, but they have no heart; they run about like lost souls, getting all worked up over nothing."