The 4th Selected Works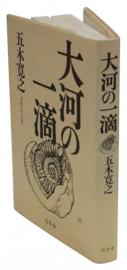 TITLE
A Single Drop in a Mighty River
(Taiga no itteki)
AUTHOR
Translator
Originally Published by:
Gentosha(1999)
KEY POINTS
A breathtaking essay which caused a social phenomenon, selling 2.4 million copies. Later adopted to film.
An essay about life based on the profound and intellectual knowledge of Buddhism.
An inspirational essay which tells readers how to accept and live with suffering.
Gives readers courage and hope.
SYNOPSIS
No matter how deeply one loves and trusts the other, a couple will lose one of them when time comes, because one will outlive the other. Probably, human life is intrinsically full of suffering---.
This essay is a work of an author who has been confronting the suffering of "living", has continued his study, research and contemplation in various fields, besides writing novels, such as music, art, history and Buddhism. "Let's not consider pain or anguish as our enemy and stop struggling against them. Both Buddha and Shinran were the ultimate negative thinkers in the beginning" writes the author in this essay. The author, focusing on
Tannisho
which is a small text touching on Shinran, a philosopher, who established Japanese Buddhism, writes about some ideas for living in the modern society full of suffering, and this book can be understood as confession of the author about his thoughts on life and death.
As soon as the release in April 1998, this book caused a social phenomenon, gave readers courage and hope and became a huge bestseller, selling 2.4 million copies. It tells us as follows: We humans are helpless, stupid and have to live a life always being tortured by obsession, but paradise exists in our daily hell; Our life is just a single drop in a great river, so get ready. In this book, the author also writes about his boyhood memories of experiencing Japan's defeat in World War II in Pyongyang and barely escaping alive from the Korean Peninsula, so this essay is like a confession of the author who candidly depicted his sentiments for the first time.