The 4th Selected Works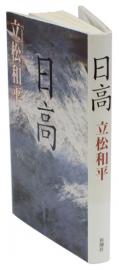 TITLE
AUTHOR
Translator
ENGLISH /
Philip Gabriel

GERMAN /
Bruno Rhyner

Originally Published by:
Shinchosha (2002)
KEY POINTS
Four days in an extreme condition trapped in snow and ice.
A man in the face of nature depicted based on actual cases of alpine accidents.
What the young man thought and saw when he was dying.
A masterpiece of mountaineering novel written by an author known for his active life.
SYNOPSIS
Mount Poroshiri is the highest peak in the Hidaka mountain range in Hokkaido. Although concerned about the weather condition, a climbing party of six left for the summit. They were members of the alpine club of their university. While they were sleeping in a snow cave, they were caught by an avalanche and lost their lives. Miraculously, one of the members did not die instantly. The leader of the party, Noboru Odagiri, stayed alive for four days before freezing to death. Trapped and pressed by thick debris of avalanche snow, he was half frozen and half asleep. He then had a series of dreams about his future, in which he was with his girlfriend or his fellow members of the club. He survived for four days beside the other members of the party who had perished on the spot. What did he think and what did he dream about on the verge of death? It was an actual case of alpine accident which occurred in 1965 that motivated the author to write this novel.
The author, who used to be a student movement activist, continued writing novels while traveling around Japan and other parts of Asia, frequently changing jobs. He had participated in environmental protection activities proactively for a long time and deepened his interest in Buddhism in his later years. This novel describes the passion of those who climb mountains despite the risks, the state of mind in an extreme condition and the powerlessness of human beings in the face of nature. It can be understood as an epic written by a remarkable writer. The author also used "the tragedy of Minya Konka" in1981 as a material to write about human beings' yearning for mountains and confrontation with the wonder of nature.