The 4th Selected Works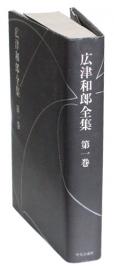 TITLE
Selected Works of Kazuo Hirotsu
(Hirotsu Kazuo sakuhin shu)
AUTHOR
Translator
KEY POINTS
Outstanding novels and critical essays have been carefully chosen from Hirotsu's long literary career.
Supported by this prose mentality, his body of work remains fresh observing the emotions of ordinary people with genuine warmth.
SYNOPSIS
"A mind that doesn't expediently interpret or undervalue reality; a mind that, as it sees reality for that it is, does not overcome with despair or desperation, or just randomly make lots of noise; a mind that for better or worse doesn't rush to make conclusions, but rather analyzes the object patiently" (
Sanbun Seishin ni tsuite
(On the Mentality of Prose)). Kazuo Hirotsu (1891-1968), whose work as a writer and critic straddled World War II, was a profound thinker regarding the position of the novel in society. Supported by that philosophy, his writing remains fresh to us today. His collected works include the well-known short story
Chimata no Rekishi
(A History of Society), the novella
Wakaki Hi
(Days of My Youth), and superb essays and critiques such as
Sanbun Seishin ni tsuite
(On the Mentality of Prose),
Tokuda Shusei Ron
(On Shusei Tokuda), and
Ippon no Ito
(A Single Strand). In
Tokuda Shusei Ron
, he interprets and praises Tokuda, a leading Realist writer, who had lived a simple life into his fifties, before losing his beloved wife, since when he was led by his desire for a younger woman, and at the age of 71produced his masterpiece,
Shukuzu
(A Microcosm of Human Life). Based on both Humanism and Realism, Hirotsu thus accepts the range of emotions that ordinary people have. He argued that the spirit of the artist should be patient, and carefully scrutinize its subject: "When people talk about the weakness of intellectualism, well why is it weak? And that being the case, then what does being strong mean? There are no writers around who put aside these questions to ponder in order to try to write a careful response." (
Ippon no Ito
).