The 5th Selected Works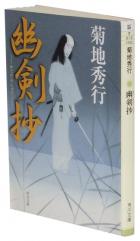 TITLE
Ghosts and Lower-class Samurai, and Other Stories
(Yukensho)
AUTHOR
Translator
Originally Published by:
Kadokawa Shoten (2001)(hc)
(2004)(pb)
KEY POINTS
A collection of supernatural ghost stories depicting the pathos of lower-class samurai who live for swordsmanship
A masterpiece collection of historical ghost stories, with which the author, a leading horror novelist, broke new ground
SYNOPSIS
Hisama Sakakibara had been identified as a prodigy of swordsmanship from a very young age, but lost the position as the sword master for thrashing a young lord in an iai (sword drawing) lesson. His friend who visited him found that his place was also kept clean and tidy. "Sakakibara has got a woman at his place!" He did indeed have a woman at his place, named Sayo, a daughter of a townsman, but she had already been killed by a street murderer in the autumn before last. The female ghost of Sayo came to Hisama because she placed confidence in his swordsmanship. She said that she would curse and ruin each and every member of Hisama's family unless he took revenge for her. However, as it turned out, the murderer and his followers were all much better swordsman than Hisama...(Kage Nyoubou (Shadow Wife)). Genbei Chitsugi had outstanding skill as a treasury official. He was stubborn and never made up to his superiors, nor hesitated to correct the wrong. As a result, he was shunned by others and banished for embezzlement to which he would not admit. A punitive force was sent against Genbei. He was slashed down and disappeared, leaving only a spray of blood. Hada, one of Genbei's old friends, confronted the ghost of Genbei which crept stealthily toward his feet before cutting off his feet at his ankle with the sword in a flash of lightning and went away leaving a ferocious gust of wrath. Hada fully realized the depth of the grudge of Genbei, who had been forced to die unjustly for an unacceptable reason...(Haizuri (The Crawler)). This is a masterpiece collection of historical ghost stories, depicting the pathos of lower-class samurai who are the captive of the sword and live for swordmanship.