The 3rd Selected Works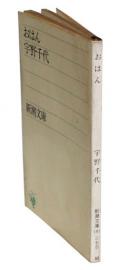 TITLE
AUTHOR
Translator
GERMAN / Martina Ebi

Originally Published by:
Chuo Koronsha (1957)
KEY POINTS
Best-selling title with over a million copies sold.
A classic of Showa-era (1926–89) fiction.
Adapted to film.
SYNOPSIS
The time and place are unclear. The story is narrated (in a dialect of the author's own creation) with quiet detachment by a man named Kanoya, a dyer's son. Kanoya has gone through all his money due to his affair with the geisha Okayo. Having deserted his wife, Ohan, he is now living off what Okayo can earn. Ohan has gone back to her parents with a young son, Satoru. One summer evening, Kanoya encounters Ohan and Satoru after seven years. Encountering with his son, he feels a burst of parental love and rashly promises to live with them "someday". He then vacillates, torn between his love for the capable, big-sisterly Okayo and the shy, unassuming Ohan.
Realizing that his inability to make up his mind is causing Satoru distress, Kanoya decides to live with the boy and his mother, but once they begin life in a new house he is overwhelmed by longing for Okayo. Then one day, as Satoru suffers an accident and dies. Ohan then disappears, leaving behind a note: "Having been loved by you is enough for me". Lamenting his own fecklessness, Kanoya nevertheless goes back to Okayo.
The story would seem to be a realistic portrait of a despicable, all-too-human man, but its true artistry lies in its portrayal of female beauty as personified in Ohan. The brilliant finale shows how a woman defeated in love attains the ideal beauty of masochistic pathos and thereby becomes, in absolute terms, invincible. This worldview, which is connected as well to the world of classical Japanese arts (especially joruri, the puppet theater) overflows with timeless, unfading beauty.