The 4th Selected Works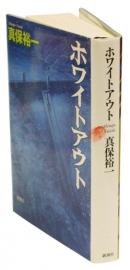 TITLE
AUTHOR
Translator
KEY POINTS
Over 1 million copies sold.
The best action-suspense novel in which the main character fights solo against a terrorist group which has taken over the dam and is holding hostages.
Time limit is 24 hours! One man bravely takes his actions in a whiteout.
Long action-suspense story, full of tension.
SYNOPSIS
Surrounded by around 2,000 meter high mountains, Okutadami dam boasts the largest reservoir storage in Japan. Teruo Togashi, a dam operating staff-member, goes out for a rescue regardless of bad weather but fails to save the life of his co-worker and best friend, Kazushi Yoshioka, in a whiteout. Three months later, Yoshioka's fiancée, Chiaki Hirakawa, visits the dam to see the ground nature that Yoshioka had loved. At this time, a militant terrorist group, the Red Moon, takes over the dam, and Chiaki is taken as one of hostages with some workers there. The terrorist group demands 5 billion yen from the government, and if they fail, the dam will be blown up. If the dam is destroyed, all the hostages will die and the municipality downstream will be sunk under the water. The time limit is 24 hours! By a lucky accident, Togashi is able to run away. In order to save his best friend's fiancée, he challenges the terrorist group all by himself.
Coming out in 1995, this action and suspense epic became a bestselling book that sold 1.2 million copies and won the 1996 Yoshikawa Eiji Literature Prize for New Writers. With a powerful description and an electric development of the story, this heavy work of literature describes the distresses and destinies of the people and glorifies a marvel of nature. Yuichi Shimpo became famous with this long story. Since then, he has been publishing weighty mystery novels.