The 3rd Selected Works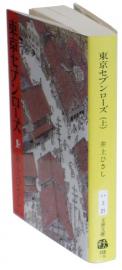 TITLE
Tokyo Seven Roses
(Tokyo sebun rozu)
AUTHOR
Translator
ENGLISH /
Jeffrey Hunter

FRENCH /
Jacques Lalloz

GERMAN /
Matthias Pfeifer

Originally Published by:
Bungei Shunju(1999)
KEY POINTS
Witty novel set immediately post WWII.
Written by one of Japan's leading comic scriptwriters and novelists.
SYNOPSIS
Tokyo Seven Roses
, a long novel that took the author seventeen years to write. It is set in Japan during the waning months of the war and the beginning of the occupation. The form is that of a diary kept from April 1945 to April 1946 by Shinsuke Yamanaka, a fifty-three-year-old fan-maker living in Nezu, part of Tokyo's shitamachi (old-town) district.
After the war, Shinsuke learns by chance that the occupation forces are plotting a nefarious scheme: in order to cut Japan off from its dreadful past, they intend to see that the language is written henceforth using the alphabet. To fight off this unheard-of threat to the integrity of Japanese culture, seven beautiful women—the Seven Roses—take a stand. They include Tomoe, whose husband perished in a B29 raid and whose stepfather has gone mad; Fumiko and Takeko, whose elder sister died in an air raid; Sen, another war widow; Tokiko, who lost her parents and older brother; and Kyoko and Fumiko, whose entire families were wiped out. The seven, while resentful of Japan's leaders for having lured the country down the path to war, and painfully aware of their own responsibility in being so gullible, hate the United States. They set their sights on three powerful members of the education delegation who have come to finalize official policy regarding the Japanese language.
The Seven Roses plan to use their charms to gain results, and succeed brilliantly. The men are photographed cavorting naked with Sen and others in a room at the Imperial Hotel and forced to sign a statement abandoning plans to alter the Japanese writing system. The year portrayed was a bleak and painful time for Japan. Shinsuke's diary, however, is surprisingly cheerful, filled with a wealth of details of ordinary people's openhearted lives. The author draws a lively portrait of Japanese who, despite privation, find relief in laughter.